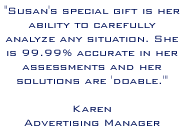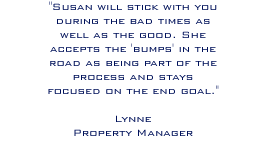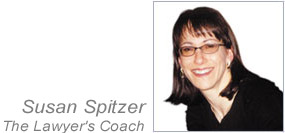 Before launching her career in coaching, Susan was a principal and managing partner of Bovitz & Spitzer, a law firm, for more than ten years. She holds a Professional Designation in Personal Financial Planning from the University of California, Los Angeles.

Susan served as the president of a 702 single family home owners' association for more than six years and the president of an 135 unit condominium owners' association in downtown Los Angeles. She is currently serving on the International Coach Federation Regulatory Committee.

Susan is a member of both CoachVille and the Graduate School of Coaching and is continuing her studies at Coach U. She is a member of the Business Building Blocks committee of the Orange County Chapter of the International Coach Federation.

Clients are attracted to Susan's directness and honesty, to her ability to size up any situation quickly and accurately, and to her practical approach to problem solving. Her specialty is helping overworked and stressed out lawyers have more fun, balance and meaning in their lives.








home - about coaching - about susan - services and fees - resources